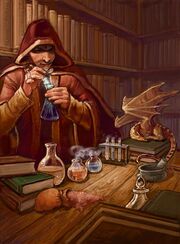 Materials used for Blacksmithing, Alchemy, and Magic in general. Updated as events warrant.
Blacksmithing
Edit
Steel
Iron
Gold
Silver
Dragon Scale
Edit
Dragon scale can be ground or drilled, but cannot be melted, pierced, or sliced. This makes it a difficult material to work with, but it is practically immune to bullets or blades.
Dragon Hide
Edit
Able to be pierced, cut, and dried, but does not conduct heat well and does not burn. Schad's clothing and boots are made from this material.
Penumbran Fruit
Edit
Fruit grown on Penumbra, it is known to be highly dangerous if eaten wrong, but very powerful in the hands of an alchemist as a spiritual poison.
Iron blocks magical energies. This makes it a very good material for magic circles and other restraints.
Holds enchantments, curses, and blessings better. Particularly handy for weapons.
Pages in category "Materials"
This category contains only the following page.